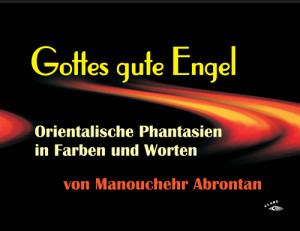 136 pages with 70 abstract pictures



ISBN 978-3-930761-54-8
TO ORDER THE BOOK: http://allafi.net or by amazon.de
Manouchehr Abrontan was born in 1955 in Teheran, Persia. He graduated from Kerman University in business management, but the theatre never left his spirit. During his university years, he was also very active in theater. Before leaving Iran in 1987, he worked as a filmmaker, producer and editor for Iranian state television. For the past two decades, he has lived in the Netherlands, where he completed a course of study at the Hoog School for Kunst en Media, a visual arts academy in Hilversum. Abrontan has shared his passion for filmmaking and editing with numerous students from around the world at the Radio Netherlands Training Center, where he taught courses in editing theory and execution. In addition to his expansive career as a documentary filmmaker, Abrontan possesses an immense passion for writing poetry and prose.
GLARE PUBLISHING HOUSE   2006
"Die Reise ist keine Flucht. Sie ist die Erkundung und ein Pilgerweg. Du entfernst dich von dem monotonen alltäglichen Leben. Du nimmst an, was dir begegnet." – Als "Non Linear Thinker" bezeichnet sich der Filmemacher und Regisseur Manouchehr Abrontan. Mit "Gottes gute Engel" legt er ein eindrucksvolles Bild seines literarischen Schaffens vor, das er mit rund 70 phantasievollen Farbkompositionen illustriert hat. Sie leiten zusammen mit den erstmals in deutscher Sprache veröffentlichten Erzählungen und tiefgründigen Reflexionen über das Leben in eine visuelle Welt, deren Dimension über das Wort hinausgeht.